Image: Sophie Toland
We're tickled pink to announce that we have been successful with the 2022 Jubilee Fund to develop and deliver our project "One Family, Four Jubilees" - an interactive audio drama, with tea and cake.

We cordially invite you to join us for elevenses, and to sit down and eat, drink and listen with us for an hour or so.
We're putting on this interactive event in June directly in celebration of The Queen's Jubilee 2022. Things you can look forward to seeing and hearing, (besides seeing our kind faces) are:
♔ A fabulous spread of the finest cakes and beverages
♔ A brand new audio drama inspired by memories and stories of the people of Leek, Staffordshire
♔ A visual/audio celebration of Leek over the past 70 years
♔ A celebratory atmosphere fit for The Queen herself
We also HEARTILY condone dressing up in your finest outfit from whichever Jubilee era you prefer* - be it her Coronation in the 1950s, or the Jubilee's of the 70s, 90s, or noughties!!
*not obligatory, but enjoyable!
How does that sound?

It sounds wonderful, obviously. Of course it does.
But when and where is this fine event happening, we hear you ask?
One Family, Four Jubilees:
Sunday 12th June, 11.30am at Foxlowe Arts Centre, Market Place, Leek, Staffordshire, ST13 6AD
Tickets available ONLINE HERE or from The Drawing Room Cafe at The Foxlowe Arts Centre.
Each ticket costs £7.50 and includes a lovely big piece of cake, and unlimited tea and/or coffee. All dietary requirements catered for - just let The Foxlowe know when you book your ticket (in person) or if booking online, email us: info@rottenparkroad.com with your dietary needs.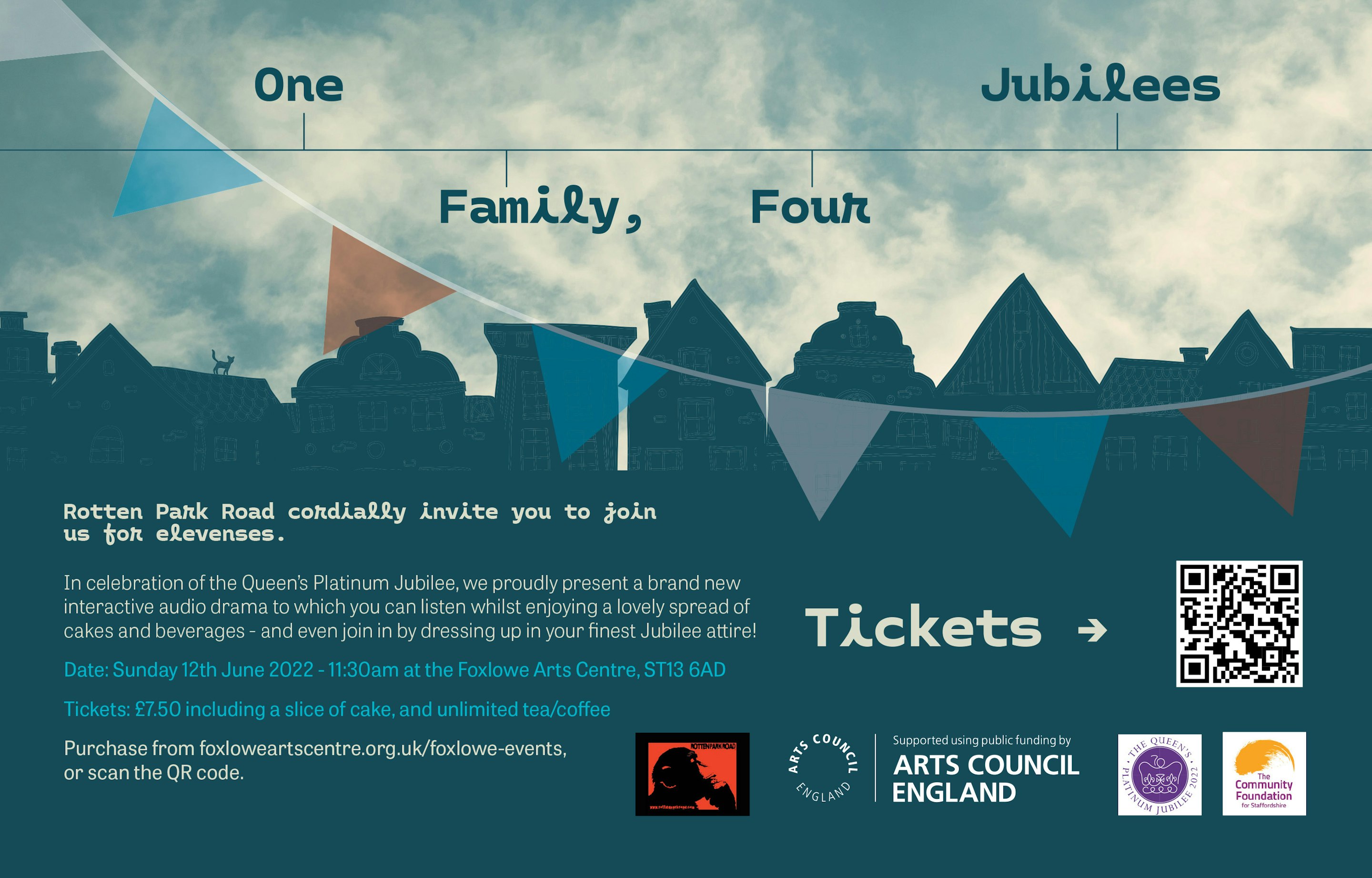 Supported by: